Use code OCEAN10 for 10% off. Min. cart value: Rs 1000/-
Loved and enjoyed by over 80 mn people and counting
Free delivery for orders above Rs 500/-
Orders processed in 3-4 working days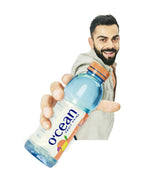 WE ARE WHAT WE DRINK
Our Hydration journey is never over, and it's a journey that everyone can join. We've crafted a range of bold, refreshing and energizing beverages to suit everyone. We want to redefine hydration with Healthy, Natural, Innovative & Great-Tasting beverages.
OCEAN IS ALL ABOUT ADDING MORE
We add to more to Beverages - So you can Feel Alive Hamesha!
OCEAN FRUIT WATER
FORTIFIED WITH VITAMINS & ELECTROLYTES
OCEAN NATURAL MIXERS
CRAFTED WITH NATURAL INGREDIENTS